Most Popular Greek Desserts
RIZOGALO
A common dish that is typically enjoyed as a sweet breakfast, a light afternoon snack, or a soothing dessert is Greek-style rice pudding. It consists of rice and milk in its basic form, which is slowly cooked and vigorously stirred until it transforms into a dense, almost custard-like treat.

Sometimes enriched with citrus or vanilla, the base is thickened with egg yolks or cornstarch on occasion. Whether it is enjoyed lukewarm or well-chilled, rice pudding is typically served with a sprinkle of cinnamon.
MILOPITA
Greek-style apple pie is a popular dessert that exists around the country in several variants. It is either prepared as a rich coffee cake that couples cinnamon-spiced apples and fluffy, buttery dough, or as a simple pie in which a delicious apple filling is covered with shortcrust pastry.
Walnuts, different types of flavorings, and dried fruits are also standard additions. Milopita is usually served with coffee in all its types and combinations and enjoyed as an afternoon dessert.
SPOON SWEETS
A traditional Greek custom and a symbol of hospitality, spoon sweets are placed in sugar syrup with fruits, nuts, and vegetables, remaining firm and preserving their original color, taste, and aroma. They are called spoon sweets because a well-filled teaspoon which is given to guests at numerous Greek homes is the regular serving part.
It is believed that when the custom first started to appear, everyone took spoon sweets from the same bowl as a precautionary measure – it was a way to know that the food was not poisoned. Even though spoon sweets are made throughout Greece, some of them are linked to specific regions: Andros is known for lemon and orange blossoms, Chios for grapes, figs, and mandarins, Santorini and Kos for their small, cinnamon-flavored tomatoes and almonds, Crete is famous for its grape and raisin sweets, while the Peloponnese is known for every imaginable citrus.
Since these sweet treats do not have any fat, they are one of the healthiest sweet items in the Mediterranean, which can also be used as a topping for ice cream, yogurt, and various cakes.
PORTOKALOPITA
This traditional Greek dessert consists of phyllo sheets that are layered or broken and blended with a creamy yogurt custard with an orange taste. The cake is doused in a dark, sugary, orange-spiked syrup when baked. A classic that comes in various variants, Portokalopita also includes semolina, cinnamon, vanilla, and dried or candied fruit.
It is best served chilled well and is often mixed with ice cream.
GALAKTOBOUREKO
There are several phyllo sheets that are sprinkled with melted butter and combined with a light semolina custard in this typical Greek dessert. The pastry is usually doused in orange spiced, sugary syrup when baked and well-chilled, allowing the layers to absorb the flavors and turn galaktoboureko into a smooth, velvety treat.
In pastry shops and traditional taverns across the country, this Greek classic is commonly found.
REVANI
Depending on the recipe variants, Revani is a traditional Greek and Turkish dessert made from semolina, sugar, and flour, with the addition of flavorings such as vanilla, lemon zest, or rose water. The cake is distinguished by its overpowering sweetness, which is the result of soaking the cake after it has been baked in sugar syrup.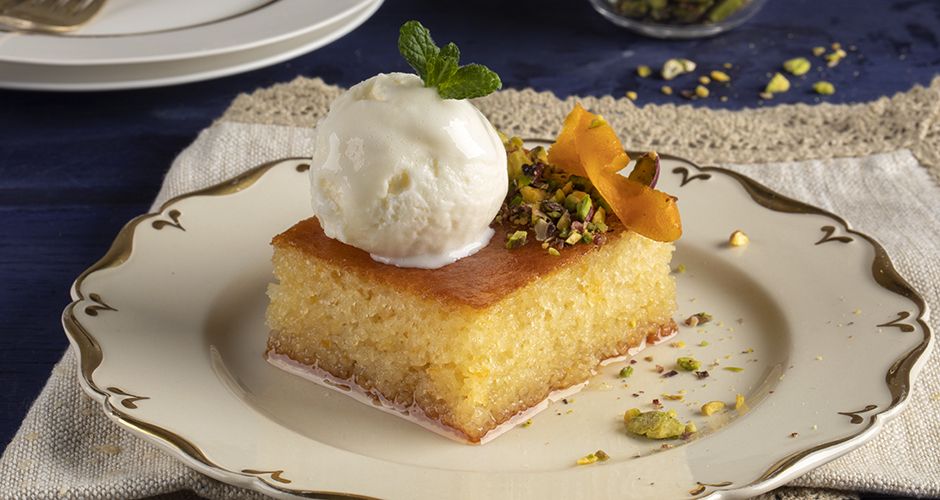 When decorated with desiccated coconut, ground pistachios, almonds, fresh fruit, or whipped cream, it is normally ready for holidays and festivities. While the dish is mostly associated with Greece, it is found in many other Middle Eastern, Balkan and African cuisines, and is called differently in each region.
Revani is very popular in Turkey ever since the Ottoman period, and it is believed that the name of the dish originated from the time when the Ottomans conquered the city of Yerevan. The cake also goes by basbousa and nammoura.
LOUKOUMADES
This internationally known, decadent, and sugar-packed dessert is usually made with a mixture of flour, sugar, yeast, and salt, which is deep-fried and then bathed in syrup or honey. The origin of lokma fritters is ancient but often debated. It is presumed that they first appeared in Greece or Turkey, though some suggest Arabic origin.
The dish is considered to be one of the oldest recorded desserts in Greek history. It is said that the pastries were even given to winning Olympians as a treat and were called honey tokens. Loukoumades, or loukmades in Cyprus, can be found throughout the streets of Greece, in shops selling nothing else but this caloric dessert.
KOULOURAKIA
Koulourakia is a Greek cookie which is typically baked and eaten after Holy Saturday during the Easter festivities. Cookies are based on vanilla, butter, and sugar and are traditionally braided, although several other types may be formed.
Usually, koulourakia cookies are eaten as a dessert or snack with coffee or tea. Sesame seeds are often coarsely sprinkled over the pastry before baking, while a clove is added in the center to add more flavor. Interestingly, as they assume that certain animals have healing powers, the Minoans often turn the cookies into snakes.
MELOMAKARONA
Though they are thought to have originated in ancient Phoenicia, melomakaronas are nowadays a typical Greek Christmas treat. These delicious semolina cookies are traditionally flavored with honey, orange zest, cinnamon, olive oil, and sometimes cognac.
Melomakarona cookies are steeped in honey syrup immediately after baking, then sprinkled with ground walnuts. While some claim that a slightly different dessert, often fried and served without walnuts, refers to another Greek treat that goes under the name finikia, both names are used interchangeably today.
KOURABIEDES
A classic Greek dessert is these crispy and buttery shortbread cookies. While walnuts are often used in some variants, they are usually prepared with a rich dough that includes ground almonds, butter, and different flavorings such as vanilla or strong brandy.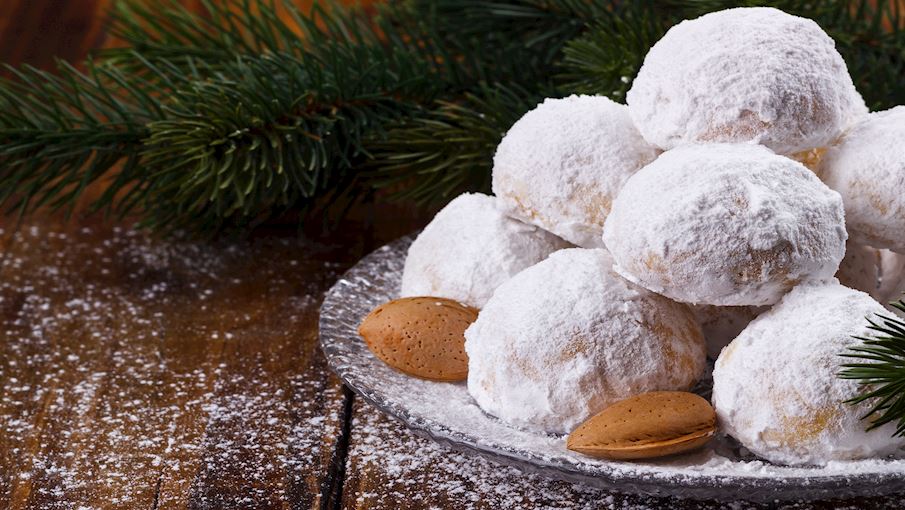 Typically, they are molded into crescent or round shapes and are generously coated in sugar powder. Kourabiedes are a staple Christmas cookie usually associated with festive occasions, but they are often associated with Easter and many other special occasions.