Most Popular German Desserts
Mohnkuchen
Mohnkuchen is a concept in German that includes a selection of desserts prepared with poppy seeds. It most generally refers to various types of open-faced and streusel cakes that combine a shortcrust pastry and a crumbly coating with the creamy poppy filling, but it may also include various types of sponge or bundt cakes.
Poppy seeds are often enriched with spices, citrus zest or liquor, and fruit, marzipan, or sweetened cheese are often added to the cakes. Mohnkuchen cakes are popular in Germany and Austria and can be enjoyed as a simple afternoon dessert or on special occasions.
Butterkuchen
Butterkuchen is a simple cake that is traditionally enjoyed with afternoon coffee and is often sold in bakeries. It has become such an important part of life in some parts of Germany that it is used for special occasions, such as weddings and funerals. As the name suggests, butter cake is made from yeasted dough consisting of flour, sugar, butter, and milk.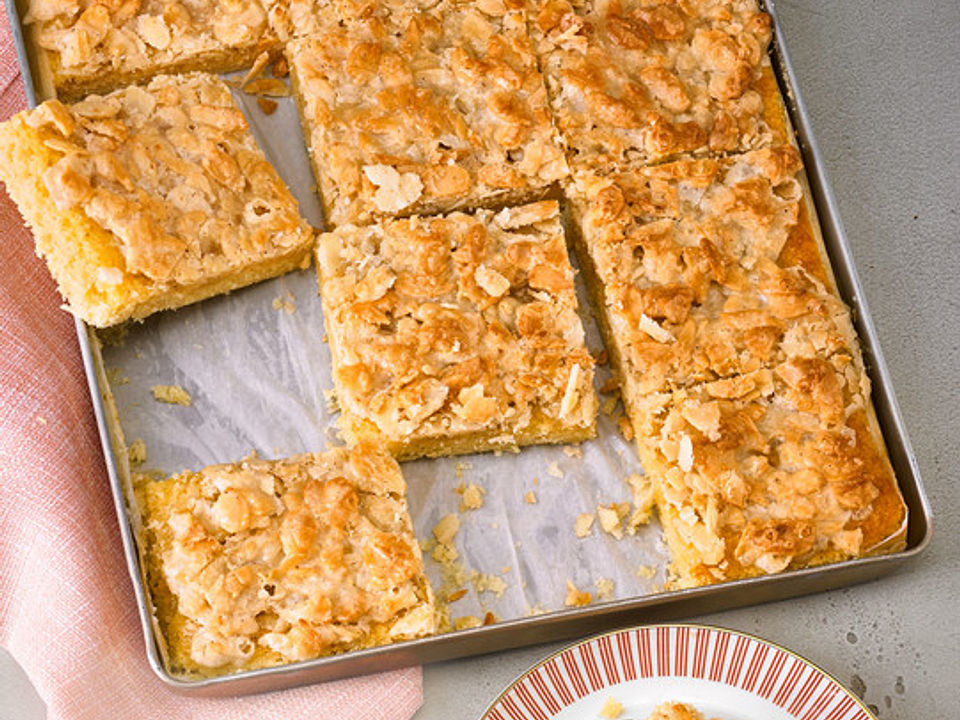 In the form of a rectangle, the dough is thinly rolled out, and poked in order to look dimpled. Butter shavings or tiny butter cubes cover the little holes and the whole cake is sprinkled with vanilla sugar and sliced almonds.
Baumkuchen
Known as baumkuchen, the German version of spit cake is only one of many similar cakes found in Europe. There are some competing hypotheses about its origin, one pointing in the direction of a 19th century German town named Salzwedel, while others claim it is a descendant of the Hungarian wedding cake.
The batter is thinly coated on a spit that rotates over a heat source, usually made of flour, eggs, sugar, vanilla, salt, and butter. Before each new layer is added, it is important to completely dry the previous one. The cake has a beautiful texture and appearance until cut, which resembles growth rings, hence its name, baumkuchen or tree cake.
Different ingredients, such as nuts, honey, and brandy, will enrich the basic dough. Additionally, the cake is also covered with sugar or chocolate glaze. Miniature, cut slices of this cake, called baumkuchenspitzen or tree cake tips, are usually glazed and sold individually in chocolate.
Donauwelle
Donauwelle is a German and Austrian sheet cake. It consists of two pound cakes, one on the bottom, flavored with vanilla, and one on top of it, flavored with chocolate. Cherries, buttercream, and chocolate ganache are then added to the top, and as the cake bakes, the tart cherries will fall down through the batter, making a wavy pattern (maybe reminiscent of the Danube river?) in the cross-section of the cake.
It is also known as Schneewittchenkuchen and Schneewittchentorte, referring to the colors black, white, and red, meaning Snow White cake.
Zimtsterne
Zimtsterne are crispy German cookies shaped like stars. They are created with a mixture of whipped egg whites mixed with sugar, cinnamon, ground nuts, traditionally almonds with hazelnuts and vanilla sugar sometimes added.
The dough is rolled and cut into cookies that are star-shaped. Each cookie is covered with a layer of white frosting after baking, which is made from a blend of egg whites and sugar. Owing to the heavy use of the aromatic spice, the name of these cookies translates to cinnamon stars.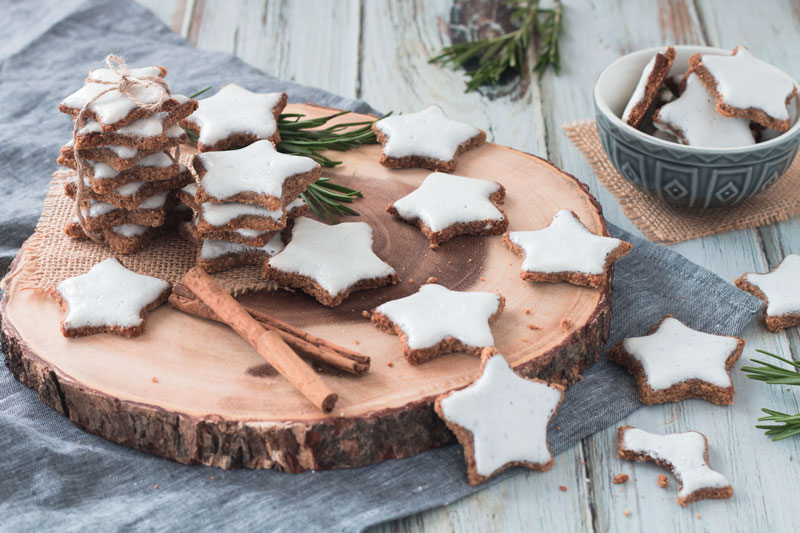 Zimtsterne are also present in other German-speaking countries besides Germany, and during Advent and Christmas they are a staple treat. When and where they originated is not known, but their first written reference dates back to 1538. At the time, cinnamon was a rare and expensive ingredient, and it took approximately two hundred years for these cookies to become an integral recipe in various German cookbooks.
Apfelkuchen
A delicious combination of thick, buttery dough and sliced, halved, or diced apples is a German apple cake. The cake is often dusted with cinnamon sugar depending on the place, coated in crumbly streusel, or doused in vanilla flavored custard.
Sliced apple cake, typically baked in round tins, is commonly enjoyed as a full afternoon dessert that is frequently served with coffee or tea.
Käsekuchen
A typical dessert consisting of a thin layer of shortcrust pastry that is topped with a creamy mixture of quark cheese, eggs, and (occasionally) different fruits is German-style cheesecake. The use of mildly acidic quark cheese results in a light, scrumptious treat that perfectly blends sweet and sour flavors, even though käsekuchen is often compared to the classic American cheesecake.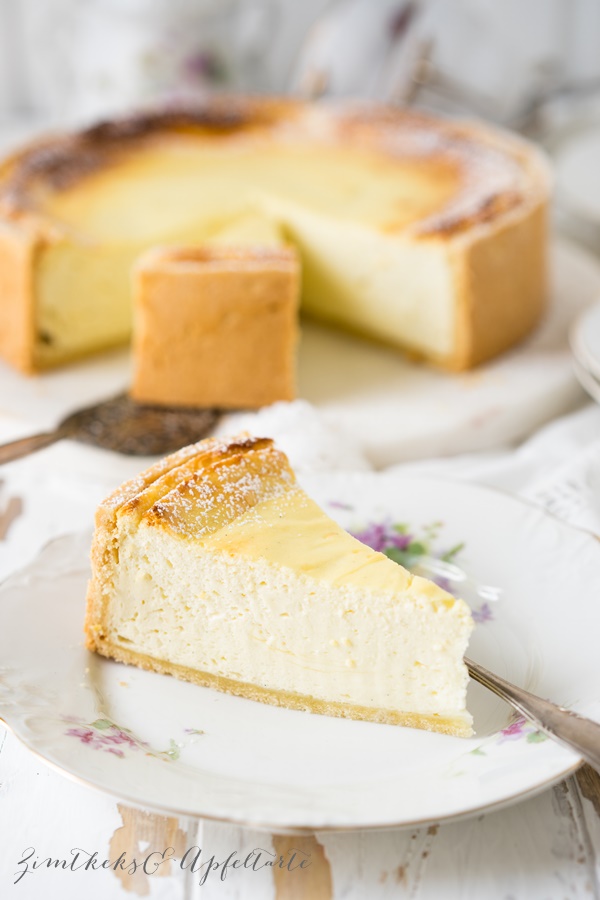 Käsekuchen, typically served dusted with powdered sugar, is a traditional German dessert that is commonly enjoyed alongside coffee or tea as an everyday treat.
Bavarian Cream
Thickened with gelatin, this thick, silky egg custard is mixed with whipped cream. It is eaten cold traditionally, and is typically garnished with fresh fruit pieces or drizzled with sweet sauces. Although its sources are very uncertain, Bavarian cream is believed to come from either Germany or France.
During the 17th and 18th centuries, many French chefs served in Bavaria, so it is assumed that they learned the recipe there. Some claim the dish was invented by Marie-Antoine Carême, a popular French chef who wrote a recipe for it in the early 18th century. Today, as a decadent dessert, Bavarian cream is eaten on its own or used as a filling for various cakes and pastries.
Schwarzwälder Kirschtorte
A common German dessert consisting of chocolate sponges that are covered in whipped cream and dotted with kirschwasser-infused cherries is Black Forest cherry cake. Some types use the brandy of the kirschwasser to soak the layers of chocolate or to flavor the whipped cream lightly.
The cake is lavishly adorned with whipped cream, chocolate shavings, and cherries when assembled. It is still debated whether the cake was created by confectioner Josef Keller or pastry chef Erwin Hildenbrand, among the various theories about its invention.
What is certain is that Schwarzwälder Kirschtorte originated in the area of the Black Forest and was possibly modeled on the regional folk dress colors. It has become a well-known German dessert, which is enjoyed throughout the world, since its first appearance in writing in 1934.
Lebkuchen
Christmas and winter holidays are primarily synonymous with this popular German treat. The word lebkuchen encompasses a wide range of different types of cookies that are usually baked on oblaten (thin wafers) and glazed or sprinkled with either dark chocolate or sugar icing, flavored with honey or ginger.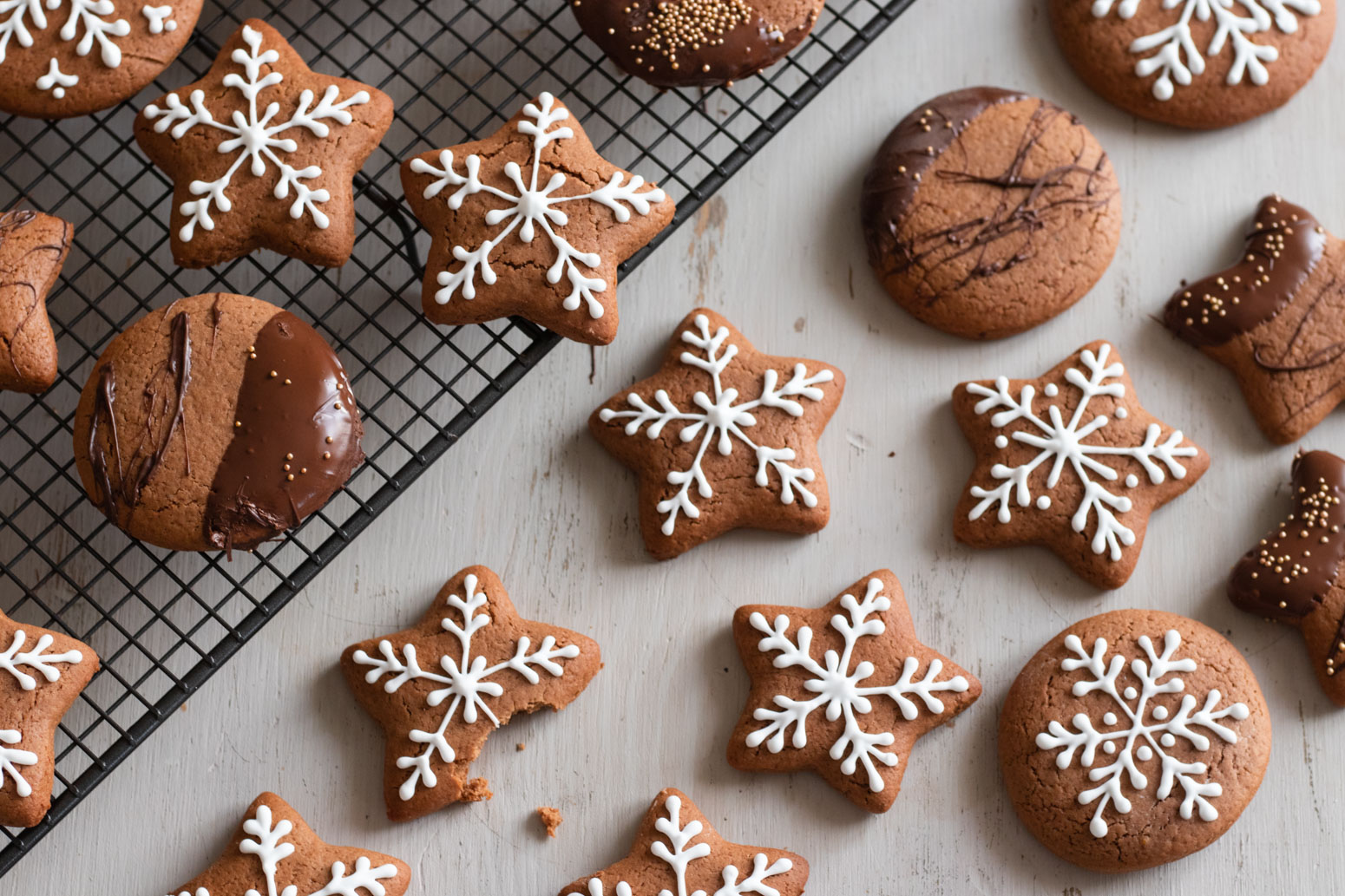 Additional ingredients may include various spices like cloves, aniseed, nutmeg, coriander, and cardamom, with different types of nuts or candied fruit.The heart-shaped lebkuchenherzen, sometimes decorated with icing and various inscriptions, the German version of the gingerbread man named honigkuchenpferd (lit. honey cake horse), and hexenhausel (lit. witch's house), are the best-known variations of this cookie, while the Nurnberger Elisenlebkuchen is the most popular.
The earliest documents in Germany date back to 1296 and the city of Ulm, and to 1395 and the city of Nuremberg. The region itself was an intersection of many trade routes which provided it with the necessary spices and thus helped keep the development of lebkuchen alive and prosperous.
In 1996, the Nurnberger lebkuchen was granted the protected designation of origin (PDO) status which applies to all the lebkuchen produced in the city of Nurnberg.