Best Singaporean Street Food
Hainanese Chicken Rice
Hainanese Chicken Rice can be considered the unofficial national dish of Singapore at almost every dining spot in Singapore, whether a fine dining restaurant or a humble hawker's center. Adapted from early Chinese immigrants from Hainan Island, it is served with fragrant rice, ginger paste and spicy chilli, bite-sized slices of chicken or even whole chicken. The spices and sauces used which give the dish a unique, lingering and lip-smacking taste, are what makes it special.
Chilli Crab
The Singaporean chilli crab is a stir-fried crustacean dish, doused in sweet, spicy and savoury tomato sauces, and listed as the 35th most delicious food in the world by CNN Go. This street food is a Singapore staple which is a must-try for seafood enthusiasts, served with deep-fried buns called mantou. With a sweet, spicy tomato-ish chilli sauce or with black pepper sauce, there are two styles of cooking crabs in Singapore. Many new famous styles have also been discovered like crab bee Hoon and salted egg crabs.
Fish Head Curry
This dish consists of a fish head, marinated and cooked in curry sauce, with a mixture of vegetables such as eggplants and okra. You've heard that right. Originating in Kerala and Malaysia, this street food is best eaten with rice or roti in Singapore. Curry Fish Head is an enigmatic dish of South Indian origin, but it is inspired by Singapore's culture. Boiled vegetables are cooked in curry with either the entire head or half a head of red snapper. It contains a range of heavy spices. Variations include Assam style Fish Head curry which has a flavour of the tamarind fruit. Tangy, ocean-y and spicy, this dish wins on all fronts!
 Fried Carrot Cake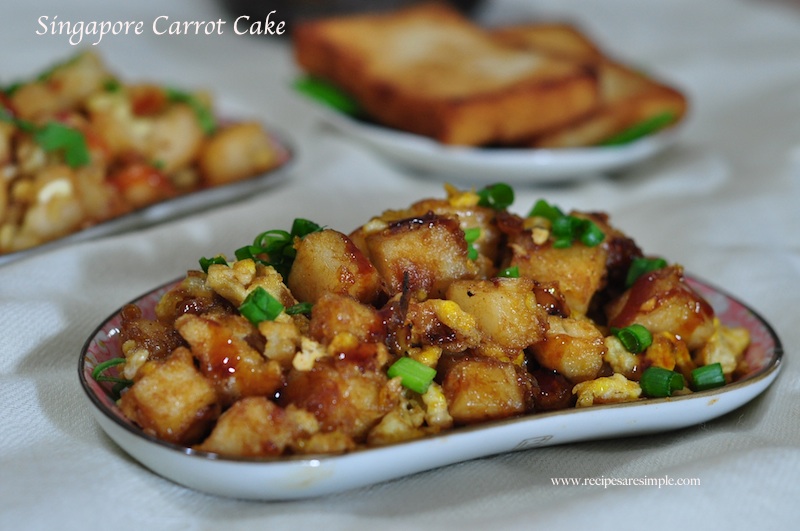 If Singapore, Fried Carrot Cake, the popular street food is ironically a black and white dish, rather than the bright orangy dessert carrot cake. It is made with eggs, chai ooh, and white radish flour cake, which gives rise to carrot cake and is essentially a white carrot (radish). The fried carrot cake is served with a sweet sauce on top of a beaten egg to create a crust and chunks of cake, commonly referred to as 'chai tow kway' in the Teochew dialect.
Char Kway Teow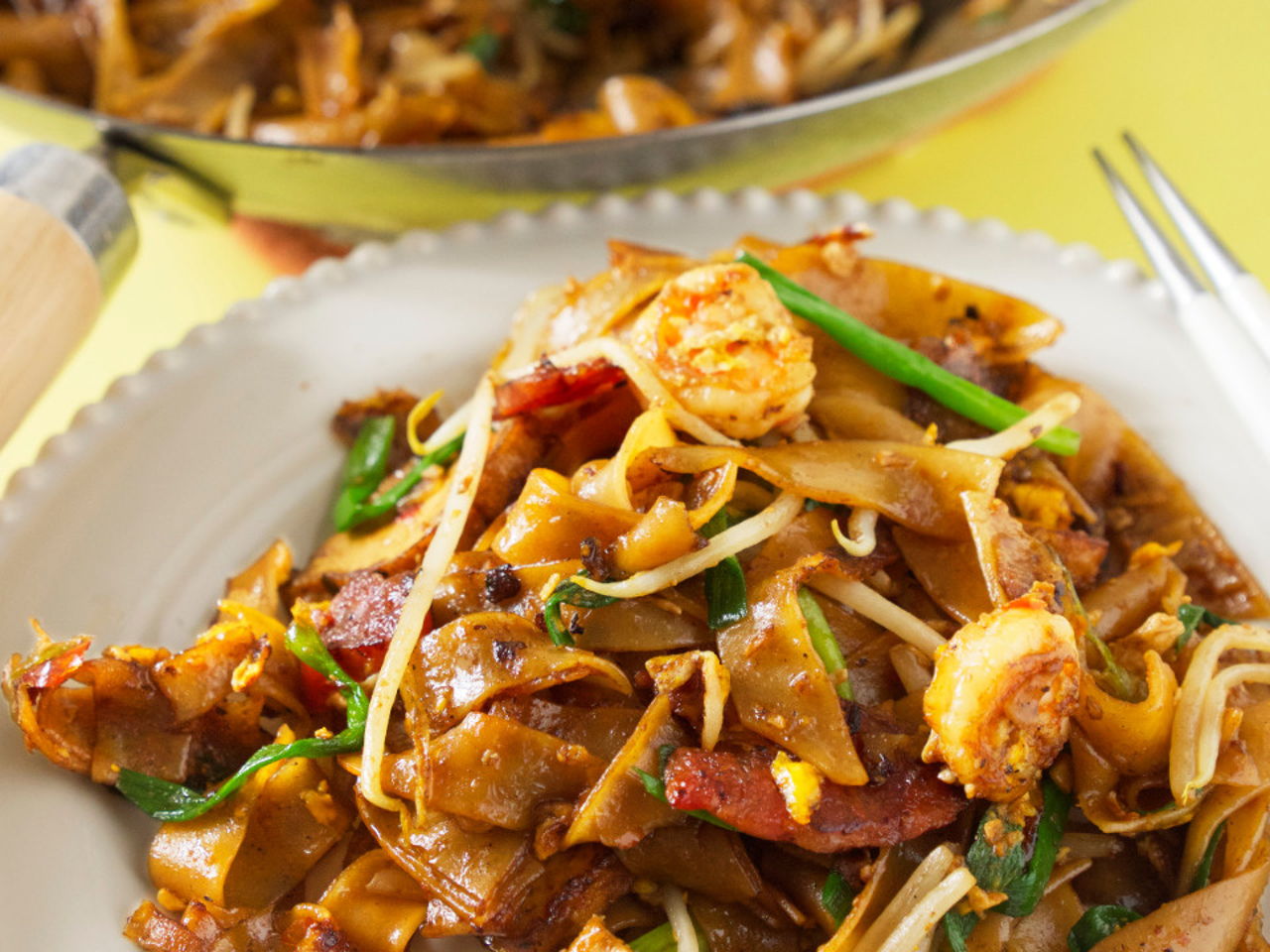 Literally translating to 'stir-fried rice noodles', this Singaporean street food is a staple at hawker centres, getting sold out instantly. Your taste buds will call out this mixture of noodles, flat rice and egg noodles stirred proteins like egg, Lap Cheong which are Chinese sausages. It is also mixed with Chinese chives and bean sprouts. The heart of this dish is lard which makes it super delicious but sometimes for a healthier variation, it is replaced by oil and served with more vegetables instead of proteins. It is often served on a banana leaf to enhance the fragrance with a wedge of lime squeezed on the top.
Kaya Toast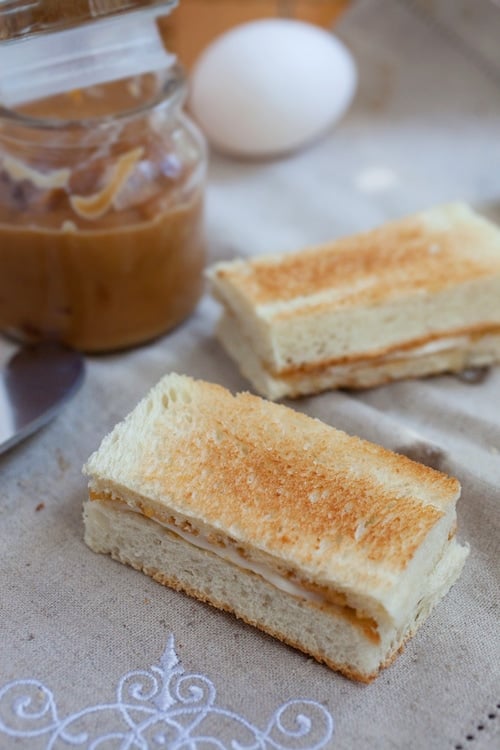 The one and only traditional Singaporean breakfast is the Kaya Toast and Soft Boiled Eggs. It is essentially a white loaf of bread, slathered with coconut or egg kaya, toasted on a grill with bread and butter. There are many versions of this favorite street food in Singapore, including round buns or brown bread. Often the dish is also fused with pepper and dark soya sauce, dipping the Kaya Toast for extra deliciousness into the egg mixture. Both green and brown variations of Kaya Toast are available – the green ones are made of the pandan leaves while the brown ones are the result of caramelised brown sugar.
Laksa
This traditional Peranakan dish is Singapore's favourite street food, and for good reason! Laksa tastes best combined with Otah, which is fish cake served on banana leaves, made from flat noodles, coconut soup, fish cakes, prawns and cockles. It is a mixture of Chinese and Malay food and is of two kinds – Asam Laksa and Curry Laksa. Curry laksa is Singapore's most popular street food, while Asam laksa is widely available in areas such as Penang in Malaysia. There are many variations of laksa regarding fish and noodles. Taste the many flavours of the ocean with this bowl!
Roti Prata
This Indian delicacy is a must-eat street food of Singapore for every traveller! Crisp, crunchy, doughy and soft Pratas dunked in delicious and tangy curry ought to get your mouth watering, and hungry for more. Made of wheat flour and served with beef, chicken, fish or vegetable curry, this Indian flatbread/pancake will linger long after you've savoured it.
Satay
This Singapore street food is a local delicacy that is candied and skewered and made from pork, chicken, beef or mutton. Satay originated in Indonesia, but in Singapore, found in fancy restaurants and hawker centers, it has become very popular. The beef is marinated in the open air with turmeric, and is barbecued. This snack can be eaten all day long, but get yours quickly as they sell out quickly, served with peanut sauce, onions and rice dumplings!
Bak Chor Mee
This delicious dish is literally translated into 'minced meat and noodles' and is soupy, meaty and noodle-y all at once! This Singapore street food consists of slices of fish cake, liver, minced pork, and a sauce that makes it steamy. This dish is usually ordered dry to enjoy the full sauce ingredients, but you can choose between the various types of noodles and chilli or ketchup! The soup version with homemade noodles is included in the versions.
Wanton Mee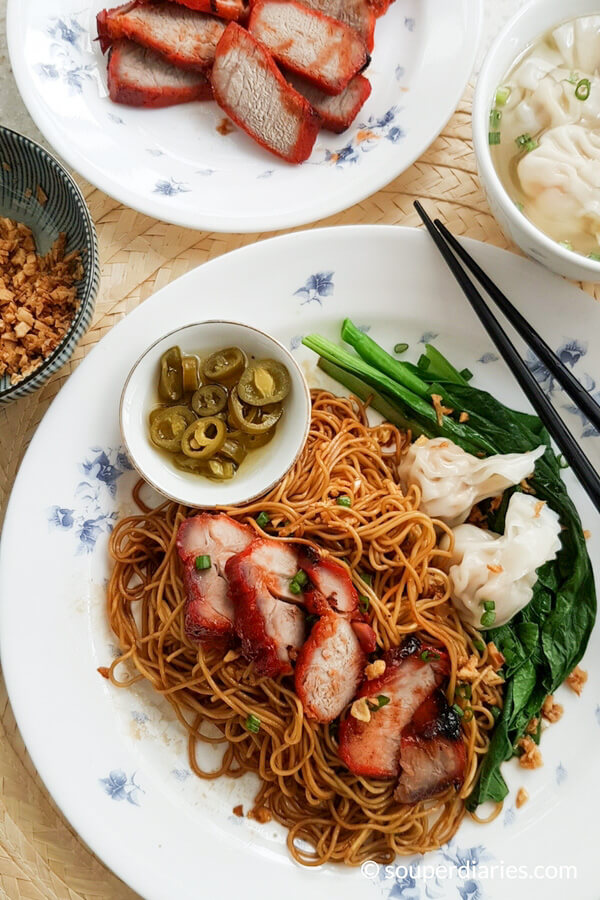 Wanton Mee is a perpetually popular street food in Singapore. Some like the dumpling part, while others are fans of the noodles' texture. Wanton's seller sells chilly broth and soup. In recent years, many customizations have been introduced and variants include Malaysian, Thai and Hong Kong taking on the dish.
 BBQ Sambal Stingray
Sambal is made of chilli peppers, shrimp, fish sauce, shallot, sugar, vinegar and ginger, and is a special sauce. The palate is exquisite combined with the smooth, delicate and distinctive stingray meat. This dish tastes as good as barbecue. Singapore's famous street food is inspired by Malay culture as they were the ones who discovered that Sambal is delicious on top of Stingray. Also known as Ikan Bakar, it is traditionally wrapped in banana leaves and barbecued on top with Sambal. In the end, lime is squeezed on the fish for better taste.
Bak Kut Teh
Bak Kut Teh is one of Singapore's most popular street foods, literally means' meat bone tea '. This local dish is a soup of pork ribs in a broth of spices and herbs. The soup is spiced with cinnamon, cloves, garlic, fennel and star anise and is made of pork, offal, mushroom, choy sum, tofu and puffs. In the assumption that tea can help saturate a significant amount of fat in the broth, this dish is savoured with tea. People have Ban Kut Teh for breakfast majorly, but it can be taken for any meals of the day.
Ice Kachang
This delicious dessert from Malaysia translates into 'iced beans'. This cold dish consists of shaved ice, red beans, grass jelly or agar-agar, sweet flavoured syrups and toppings like sweet corn and other goodies, a favorite of children and adults alike. To achieve the multicoloured effect, condensed milk is also poured on top, along with red rose syrup. Ice Kachang has many variants, such as chocolate syrup, durian, etc., and is the ideal way to end your Singapore street food trip.